ADHD Children Estimated at 9% by New Study
How prevalent is ADHD ? A new ADHD study reports some attention getting numbers. The first is that about 9% of children and teenagers in the United States have "attention deficit hyperactivity disorder" – ADHD. The second number is that only about 1/3 of those children and teenagers with ADHD are getting medical treatment. There have been a number of similar studies done through the years, but this study is considered important because it used the most modern diagnostic criteria
for ADHD today, the Diagnostic and Statistical Manual for Mental Disorders, Fourth Edition.
The ADHD Information Library has written and maintained for years that about 5% of children in the US had ADHD, and that it has been both "over-diagnosed" and "under-diagnosed." Over-diagnosed in the sense that often the medical evaluations leading to a diagnosis don't consider the differential diagnoses that need to be ruled out before diagnosing ADHD, such as fetal alcohol syndrome, head injuries, tourette's syndrome, bipolar disorder, and more (see http://newideas.net/adhd/differential-diagnosis ). But recently we have had to adjust with the times, and accept the estimates of three major studies published in 2002, 2003, and 2006, that 7.5% to 8.5% of children and teens have ADHD.
Our concern is that this study may have fallen into the same trap. Simply reporting that 9% of children meet the DSM-IV criteria for ADHD is not the same as 9% of the kids having ADHD. Rather, many children who meet the criteria for ADHD actually have some other disorder. And we have reported that ADHD is under-diagnosed in the sense that only about 1/3 of the kids who actually have ADHD ever get treatment. This study confirms that estimate.
Obviously a lot of this has to do with definitions. In our label of ADHD do we include "acquired" forms of ADHD along with "inherited" ADHD ? "Acquired" forms of ADHD would include those who were born with head injuries from FAS and drug exposure in utero, and those who suffered from illnesses that have left them with ADHD symptoms.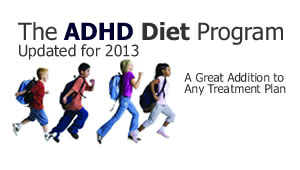 Go to the ADHD Diet Information site to get the full ADHD diet in eBook PDF format, including our UPDATES for 2013. We also have the full 21 minute information video on our ADHD eating program.

One researcher says that those with "acquired ADHD" make up about 33% of all who are diagnosed with ADHD. So that would satisfy us. The 9% with ADHD number now becomes 6% with a genetically based neuro-biological ADHD, plus 3% with "acquired ADHD" from some type of brain injury from any number of causes.
"There is a perception that ADHD is overdiagnosed and overtreated," said lead researcher Dr. Tanya E. Froehlich, from Cincinnati Children's Medical Center. "But our study shows that for those who meet the criteria for ADHD, the opposite problem -- underdiagnosis and undertreatment -- seems to be occurring."
The researchers found that some 2.4 million children between the ages of 8 and 15 meet the medical definition of ADHD, but an estimated 1.2 million children haven't been diagnosed or treated, Froehlich said, adding that "girls were more likely to be undiagnosed."



The researchers studies the data on 3,082 children who participated in the National Health and Nutrition Examination Survey. Using interviews, the researchers were able to establish whether a child met the criteria for ADHD. They also used data from doctors and the numbers of ADHD medications being used to establish diagnosis and treatment patterns, according to the report.
The researchers found that of the 8.7 percent of children who met the criteria for ADHD, only 47.9 percent had been diagnosed with the condition and only 32 percent were treated consistently with medications.
Froehlich said more needs to be done to identify and treat children with ADHD. "It's not a trivial disorder," she said. "It can have an impact on the child and the family if it is not diagnosed and addressed. We need to redouble our efforts to help doctors spot the symptoms of ADHD and make an accurate diagnosis."
September 2007 issue of Archives of Pediatrics & Adolescent Medicine.
Back to "What is ADHD"? index
This book section: What is ADHD?
Douglas Cowan, Psy.D., M.S. is a licensed Marriage and Family Therapist in Tehachapi, CA who has been a counselor to children, teens, and adults helping them to overcome ADHD, find relief for depression or anxiety, and solve other problems in life since 1989. He served on the medical advisory board to the company that makes Attend and Extress from 1997 through 2011, and he is the Editor of the ADHD Information Library online resource at http://newideas.net/. His weekly ADHD Newsletter goes out to 9,500 families. Visit his website at http://DouglasCowan.me for more information on achieving greater health, personal growth, Christ-centered spirituality, stress management, parenting skills, ADHD, working out the stresses of being a care-giver to elderly parents and also being a parent to teenagers, or finding greater meaning in retirement years, Dr. Cowan can be a valuable resource to you.
Counselor counseling Tehachapi for ADHD, depression, anxiety, and more.


Douglas Cowan, Psy.D., MFT
27400 Oakflat Dr.
Tehachapi, CA 93561
(661) 972-5953